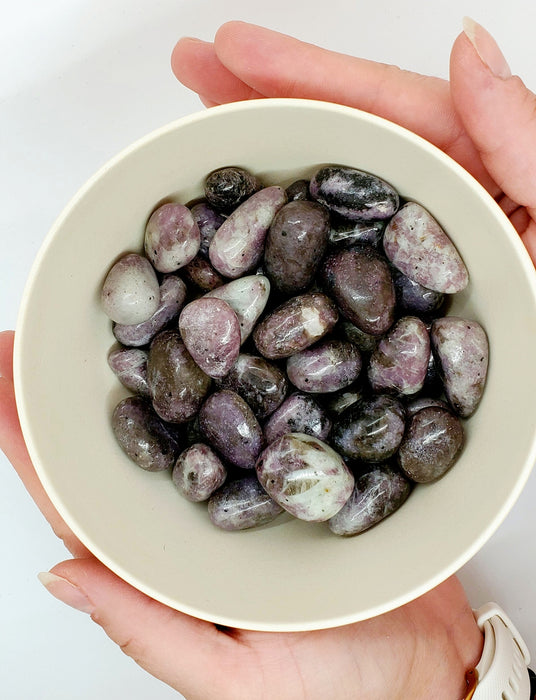 Lepidolite Tumbled
Save

0

%
Save %
Original price
$2.00
-
Original price
$2.00
Receive one hand selected stone per each
Lepidolite is a lilac-gray or rose-colored member of the mica group of minerals with formula K(Li, Al, Rb)₂(Al, Si)₄O₁₀(F, OH)₂. It is the most abundant lithium-bearing mineral and is a secondary source of this metal. It is a phyllosilicate mineral and a member of the polylithionite-trilithionite series.
Lepidolite's name comes from the Greek translation of "scale," which is a reference to its scaly appearance. It wasn't discovered until 1861, and was initially called Lilalite due to its lavender hue. It contains the most lithium of any other mineral on earth. Lithium, an extremely light metal, has many high-tech uses. Its compounds are even used in some medications to regulate mood disorders. Lepidolite is also a rich source of other rare elements, including cesium and rubidium. Because Lepidolite contains so many valuable elements, it is highly sought after and mined for extraction. Lepidolite's chemical composition is the reason why it is a prized mineral in metaphysical circles. 
One of the best mood stabilizers in the world of gemstones, the Lepidolite crystal contains a high amount of lithium, which is also used in anti-anxiety medication. It doesn't require a prescription and side effects include a sense of calm and tranquility during times of stress and chaos. Call on the Lepidolite crystal healing properties to balance the mind and spirit, especially when you are feeling paralyzed by the negative effects of stress and anxiety.