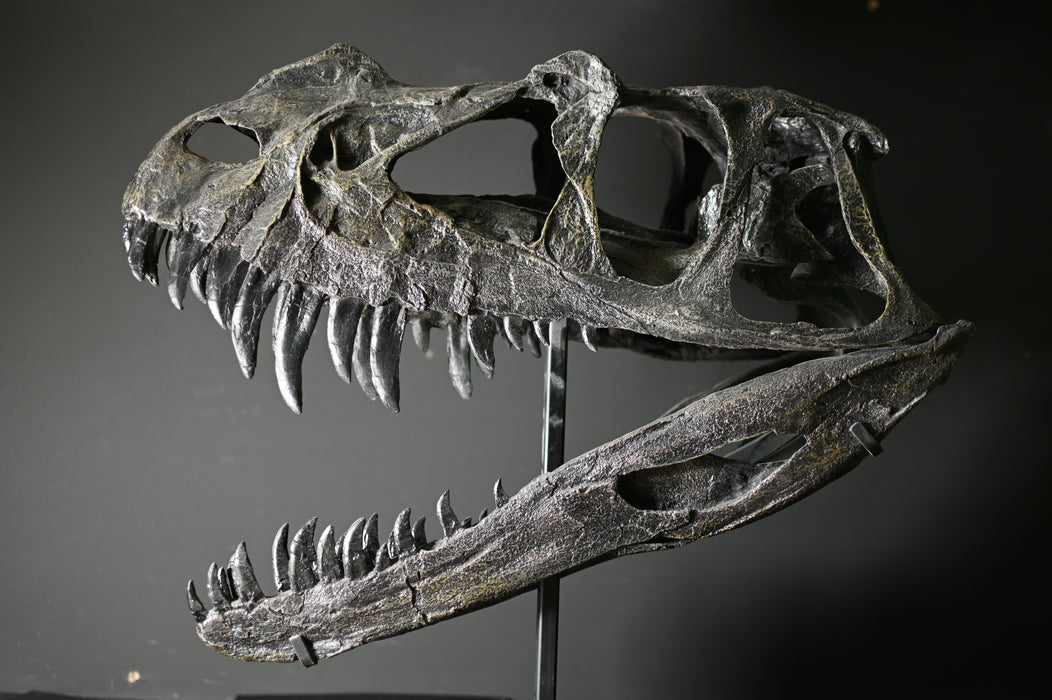 Ceratosaurus nasicornis | Juvenile Skull Replica
Save

0

%
Save %
Original price
$2,800.00
-
Original price
$2,800.00
This amazing replica of a Ceratosaurus nasicornis is made of Polyurethane Resin with a Steel stand
Ceratosaurus nasicornis is instantly recognizable by the two large brow ridges and the nasal horn. Ceratosaurus fossils has been found across Utah, Colorado, and Wyoming in the 150-million-year-old Upper Jurassic Morrison Formation, alongside its more famous contemporary Allosaurus. Ceratosaurus was a large, bipedal, meat-eating dinosaur with a four fingered hand that grew up to 25 feet long. This specific skull is molded from a juvenile specimen from the Historic Bone Cabin Quarry in southeastern Wyoming. The size of the skull makes this juvenile approximately one half the size of a full-grown adult Ceratosaurus.
This is a museum quality cast replica made with a durable polyurethane resin. It was molded directly from the original restored skull, not a 3D printed skull or a sculpture. The resin cast is made on demand and is produced using methods that preserve all of the fine details found in the original specimen.
Display size: 20"x8"x17" as displayed with mouth open, not including the display stand. Variations on the color of the skull and the mount (i.e. wall mount) are possible.
Purchase includes:
-A full sized, museum quality, resin cast - A custom steel display stand               
Each skull is hand painted to match the original bone.
Due to the size of this specimen, it will be shipped in an internationally compliant wooden crate that is not included in the price. Crate pricing is dependent on current wood rates. 
Please contact us for a specific shipping rate. You may opt in for in store pickup to cut your shipping costs all together and pick up your specimen in person. You can pick up from our store location in Kemmerer, Wyoming, or we deliver to both the Denver Gem & Mineral show in the Fall and the Tucson Gem & Mineral show in the winter. For any questions, please don't hesitate to contact us directly.