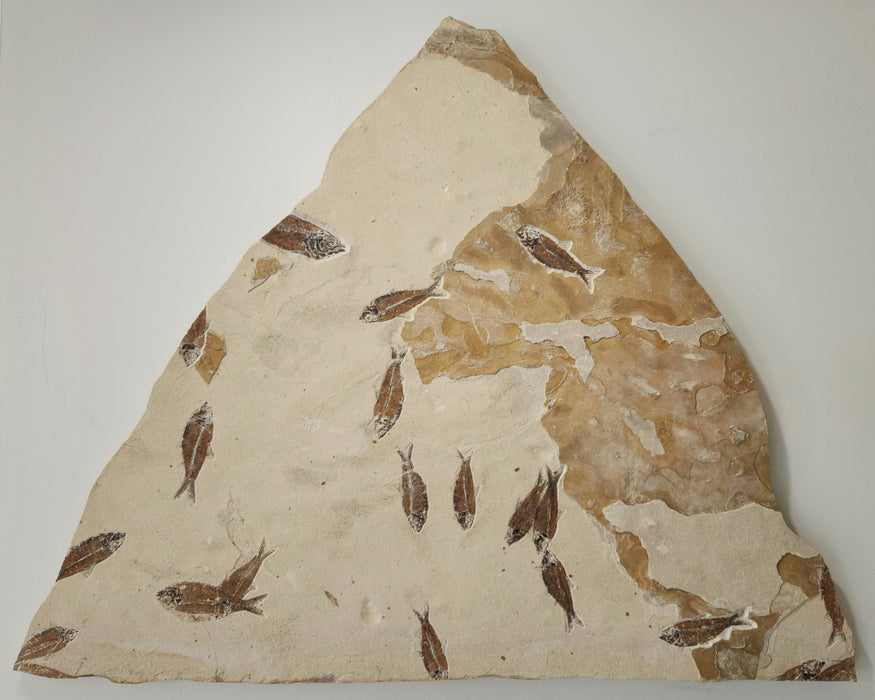 Knightia eocaena Mortality Plate | Knightia eocaena with partial Mioplosus labracoides | Green River Formation | Wyoming
Save

0

%
Save %
Original price
$900.00
-
Original price
$900.00
Knightia unrestored specimen 100% Natural
Eocene (51.98 Million Years Ago)
Green River Formation, Wyoming, USA
In Stone Fossils Private Quarry
Twelve complete Knightia eocaena, eight partial Knightia eocaena, and partial Mioplosus labracoides.
Plate size approx: 38.25" x 31"

Knightia approx: 4" - 5"
Mioplosus partial approx: 4"
Due to the size of this specimen, it will be shipped in an internationally compliant wooden crate. Price of crate is included. The plate itself is backed with 3/4" plywood for durability and easy wall hanging, a french cleat hanging system is included as well.
Please contact us for a specific shipping rate. You may opt in for in-store pickup to cut your shipping costs all together and pick up your specimen in person. You can pick up from our store location in Kemmerer, Wyoming, or we deliver to both the Denver Gem & Mineral show in the Fall and the Tucson Gem & Mineral show in the winter. For any questions, please don't hesitate to contact us directly.
Found in our private quarry with beautiful reddish-gold toned iron mineral replacement of which our quarry is prized for.
We take great pride in hand selecting the best specimens out of our private quarry. Our Green River Formation specimens are all prepared using surgical grade microscopes and the very best fossil preparation tools available. We pride ourselves on delivering the highest quality specimens available. 
 Knightia is an extinct genus of clupeid bony fish that lived in the freshwater lakes and rivers of North America and Asia during the Eocene epoch. The genus was erected by David Starr Jordan in 1907, in honor of the late University of Wyoming professor Wilbur Clinton Knight, "an indefatigable student of the paleontology of the Rocky Mountains." It is the official state fossil of Wyoming, and the most commonly excavated fossil fish in the world.
 Knightia belongs to the same taxonomic family as herring and sardines, and resembled the former closely enough that both Knightia alta and Knightia eocaena were originally described as species of true herring in the genus Clupea.
As with modern-day clupeids, Knightia spp. likely fed on algae and diatoms, as well as insects and occasionally smaller fish.
Anatomy
In Knightia fish, rows of dorsal and ventral scutes run from the back of the head to the medial fins. They had heavy scales and small conical teeth. Their size varied by species: Knightia eocaena was the longest, growing up to 25 cm (10 in), though most specimens are no larger than 15 cm. K. alta was shorter and relatively wider, with specimens averaging between 6 and 10 cm.
 Predators
A small schooling fish, Knightia made an abundant food source for larger Eocene predators. The Green River Formation has yielded many fossils of larger fish species preying on Knightia; specimens of Diplomystus, Lepisosteus, Amphiplaga, Mioplosus, Phareodus, Amia, and Astephus have all been found with Knightia in either their jaws or stomachs.