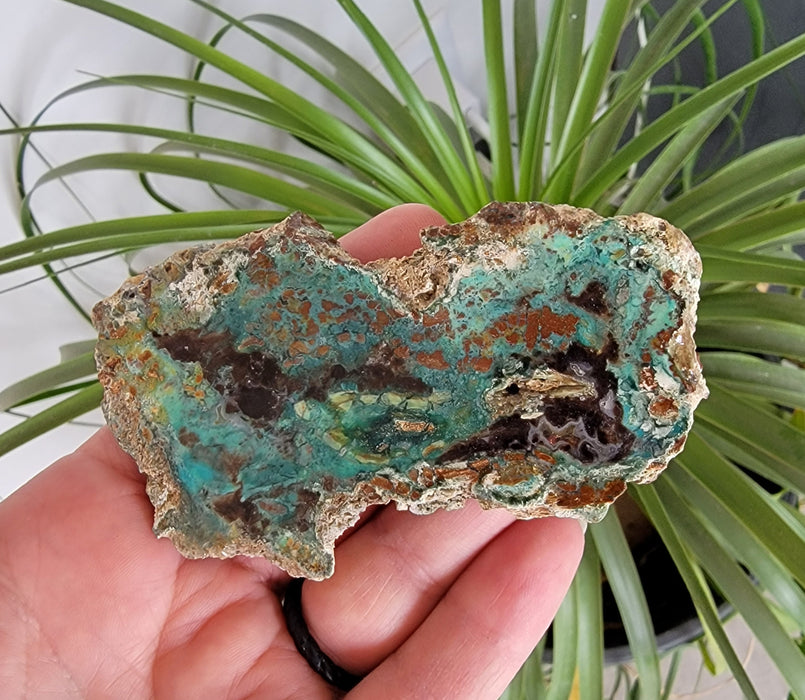 Rare Chrysocolla Petrified Wood Slab "Colla Wood" | Turkey
Save

0

%
Save %
Original price
$300.00
-
Original price
$300.00
This gorgeous Rare Chrysocolla Petrified wood slab or "Colla Wood"  from Turkey
This stunning and rare petrified wood exhibits partial replacement of vibrant copper based minerals such as Azurite, Chrysocolla and Malachite. It has also been stabilized on the backside.
Measures approx: 3.75" x 2" x 1cm
When fossilized wood fractures, water that contains copper-related minerals flow through the fractures and fissures  leaving deposits with their very distinctive colors. Azurite is a mineral that is known for its vibrant blue color, Chrysocolla has the unique aqua coloring and Malachite has the deep green coloring. Opalization may also be present.
Colla Wood is a rare blend of petrified wood and minerals that have infused the wood over time. These minerals are associated with copper deposits, and include chrysocolla, which originally lead to the name "Colla Wood". However, the most distinct blues and greens are mainly attributed to azurite and malachite. Specimens can contain a variety of minerals including chalcedony, hematite and in some cases even volborthite.
Silicified wood containing copper minerals was discovered in 2012 in the Black Sea region, when a petrified log was excavated by gold prospectors near the town of Zile, in Tolkat Province, Turkey. The regional setting suggests that the wood is of Miocene age. These pieces are some of the finest examples of this geological rarity!