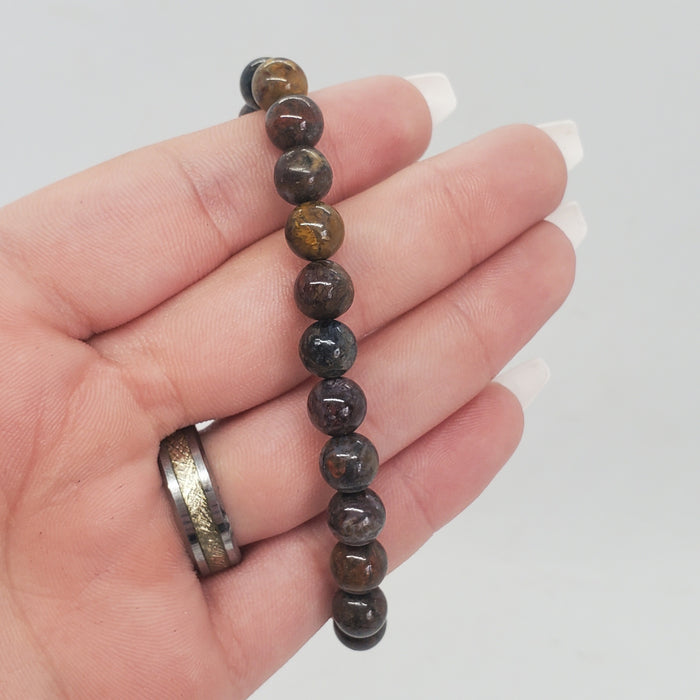 Assorted Gemstone Bracelets
Save up to

0

%
Save %
Original price
$6.00
-
Original price
$32.00
Beautiful gemstone bracelets, your choice of Pietersite, Fluorite, Obsidian, Sodalite, Tiger's eye, Red, Blue, & Yellow Tiger's Eye, Lepidolite, Strawberry Quartz, Flower Agate, Black Tourmaline with Quartz, Maifanite, Smoky Quartz, Blue Apatite, Lava Stone, Opalite, Picasso Jasper, Imperial Jasper (Blue Ocean), Ruby Zoisite, Rhodochrosite, Mixed Beryl Morganite, Chrysocolla, Tourmalinated Quartz, Watermelon Tourmaline, Lapis Lazuli, Aquamarine, Botswana Agate, or Moss Agate. One will be hand selected of your choice, no two are exactly alike making each one personal. Each bracelet measures approx 8" around and stretches. Beads range from approx. 5mm-15mm.
Pietersite: Because its swirling colors resemble a storm, pietersite is known as tempest stone. Pietersite discharges negative energies and emotional turmoil while cleansing the aura, restoring it to calm. It is an extremely supportive and strengthening stone that increases self-esteem.
Fluorite: Absorbs and neutralizes negative energy and stress. An excellent learning aid, Fluorite increases our powers of concentration, self-confidence and helps us in decision-making. It encourages positivity, balances the energies, and improves balance and coordination, both physically and mentally.
Obsidian: A strong protective stone, it forms a shield against negativity. It blocks psychic attack and absorbs negative energies from the environment. Obsidian draws out mental stress and tension. It stimulates growth on all levels, urging exploration of the unknown and opening new horizons.
Sodalite: Sodalite brings order and calmness to the mind.  It encourages rational thought, objectivity, truth and intuition, along with verbalization of feelings.  It enhances self-esteem, self-acceptance and self-trust. 
Tiger's eye: Known for its combination of properties that promote vitality and physical action. By activating and balancing the third chakra, the solar plexus, Tiger's Eye crystal properties helps you stay grounded and centered, even if you're surrounded by chaos.  Blue Tiger Eye is calming and releases stress.  A stimulating stone, Red Tiger Eye overcomes lethargy and provides motivation.

Lepidolite: A "stone of transition", Lepidolite assists in the release and reorganization of old behavioral and psychological patterns, gently inducing change.  It brings deep emotional healing, soothing and reducing stress and depression.
Strawberry Quartz: In addition to the generic healing properties of Quartz, Strawberry Quartz stimulates the heart energy center, filling ones total person with the feeling of love and with the euphoria of the true loving environment.

Flower Agate: As a stone of manifestation, this pink-hued beauty is a great ally to those attracted to the idea of promoting courage, spontaneity, and joy.
Black Tourmaline with Quartz: Black Tourmaline can be used to both repel and protect against negativity.  It enhances ones physical well being by providing an increase in physical vitality, emotional stability, and intellectual acuity.

Maifanite: Maifanite, also known as Maifan Stone is a gemstone that increases the owner's energy. In addition to purifying energy, it also reinforces it.

Smoky Quartz: In addition to the generic healing properties of Quartz, Smoky Quartz is an excellent grounding stone.  Smoky Quartz disperses fear, lifts depression and negativity.  It brings emotional calmness, relieving stress and anxiety.  Promotes positive thoughts and action.  Smoky Quartz aids concentration and assists in communication difficulties.
Blue Apatite: Enhances communication in groups and facilitates public speaking.  It heals the heart and emotions.  Blue Apatite connects to a high level of spiritual guidance.

Lava Stone: Gives us strength and courage, allowing us stability through times of change.  A calming stone, it is very useful in dissipating anger.  It promotes positive changes where needed in behavioral issues.  In addition, Lava Stone is a wonderful aromatherapy essential oil diffuser.
Opalite: Opalite improves communication on all levels, especially spiritual.  It removes energy blockages of the chakras and meridians.  Emotionally, Opalite helps by assisting during transitions of all kinds.
Picasso Jasper: It is a stone that reminds us to celebrate and enjoy life.  Picasso Jasper assists in the transformation of relationships.  It has strong grounding and calming qualities and helps to develop strength and self-discipline.

Moss Agate: In addition to the generic healing properties of Agate and Chalcedony, Moss Agate is a stone of new beginnings.  Inspires new ideals after periods of stagnation.  Moss Agate promotes self-expression and communication.  Balances the emotions, releasing fear and stress.  Encourages trust and hope.
Imperial Jasper (Blue Ocean): Assists in accepting responsibility and instills patience.  It facilitates continuity in circular breathing.
Ruby Zoisite: Helps us "rebirth" and have a better understanding of ourselves and our connection to the outside world.
Rhodochrosite: Improves self-worth and soothes emotional stress.  It encourages a positive attitude, creativity and innovation, and enhances dream states.
Mixed Beryl Morganite: The meaning of Morganite is heart healing and manifestation.
Chrysocolla: Known for its ability to soothe, calm, and inspire.
Tourmalinated Quartz: Combines the properties of Tourmaline and Clear Quartz Crystal.  Tourmaline purifies one's own energies and protects from negativity, while Quartz amplifies energies focused through it.
Watermelon Tourmaline: Helps calm and soothe your emotions.  It also helps combat anxiety and depression. This stone offers up light, love, and rejuvenation.
Lapis Lazuli: Releases stress, brings harmony and inner self-knowledge, and encourages self-awareness.
Aquamarine: Its calming energies reduce stress and quiet the mind.  It can invoke tolerance of others.
Botswana Agate: Commonly used to improve attention to detail, increase positivity, and awaken your sense of adventure.