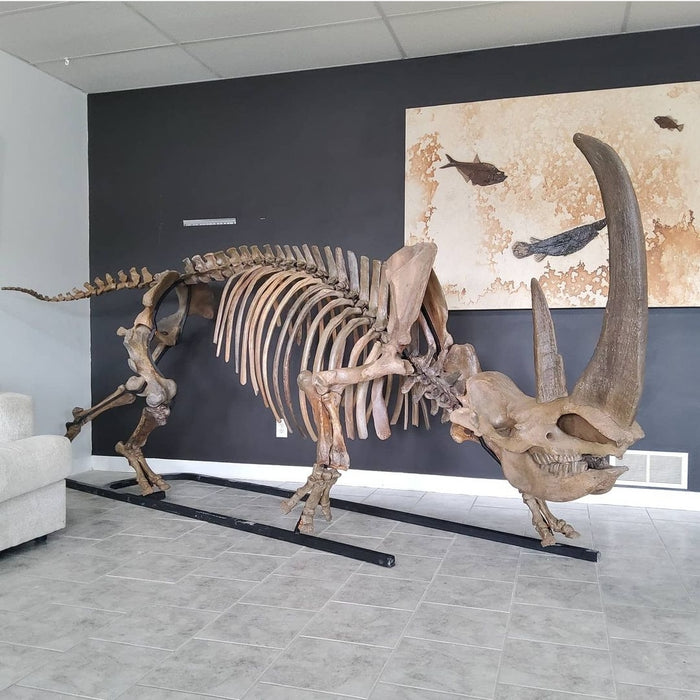 Coelodonta antiquitatis (Woolly Rhinoceros) | Russia
Save

30

%
Save

30

%
Original price
$250,000.00
Original price
$250,000.00
-
Original price
$250,000.00
Original price
$250,000.00
Current price
$175,000.00
$175,000.00
-
$175,000.00
Current price
$175,000.00
This specimen measures approx 11' long x 5' tall x 3.5'  Horns measures 39.5" tall x 22" girth and 16" tall x 14.75" girth
*some minor restoration has been done on this beautiful specimen 
The woolly rhinoceros is an extinct species of rhinoceros that was common throughout North America, Europe, and Asia during the Pleistocene epoch and survived until the end of the last glacial period. The woolly rhinoceros was a member of the Pleistocene megafauna.
Wikipedia
Scientific name:

 
Coelodonta antiquitatis
Genetic analysis of the remnants of 14

 

woolly rhinos

 

shows that a warming climate, not hunting, probably killed them off 14,000 years ago. The numbers of

 

woolly rhinos

 

remained constant until close to their

 

extinction, and far after humans had migrated to their territory in Siberia.