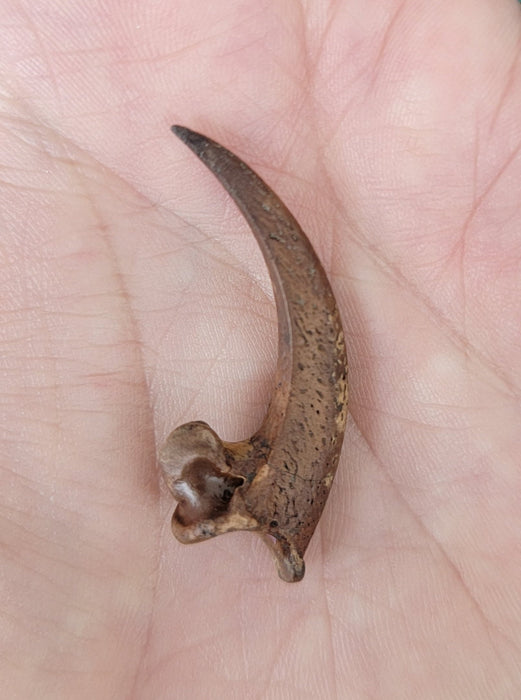 La Brea Golden Eagle Talon | Aquila chrysaetos | Maricopa, California
Save

0

%
Save %
Original price
$895.00
-
Original price
$895.00
Aquila chrysaetos
Late Pleistocene epoch
Approx. 20,000-30,000 years old
Rancho La Brea Formation
Maricopa, California
Specimen approx. size: 1.75"
*3mm of tip is restored*
Due to their fragile nature, bird bones are relatively less common in the fossil record than those of other taxa. However, thanks to the preservative properties of asphalt, Rancho La Brea has one of the world's largest collections of fossil birds, with about 140 species represented. The majority of these species are still in existence today, while 23 species have gone extinct.

The La Brea Tar Pits are composed of heavy oil fractions called gilsonite, which seeps from the Earth as oil. This seepage has been going on for tens of thousands of years. The oil reaches the surface and forms pools, becoming asphalt as the lighter fractions evaporate. During this time, the asphalt sometimes formed a deposit thick enough to trap animals. The deposit would become covered with water, dirt, leaves, or other debris. Animals would wander in, not knowing the danger. They would become stuck, and eventually die. Predators would enter the deposit to eat the trapped animals, also not knowing the danger. They too would become stuck, and eventually die. As the bones sink, the asphalt soaks into them, turning them dark-brown or black in color. Lighter fractions of oil further evaporate from the asphalt, leaving a more solid substance, which then encases the bones.