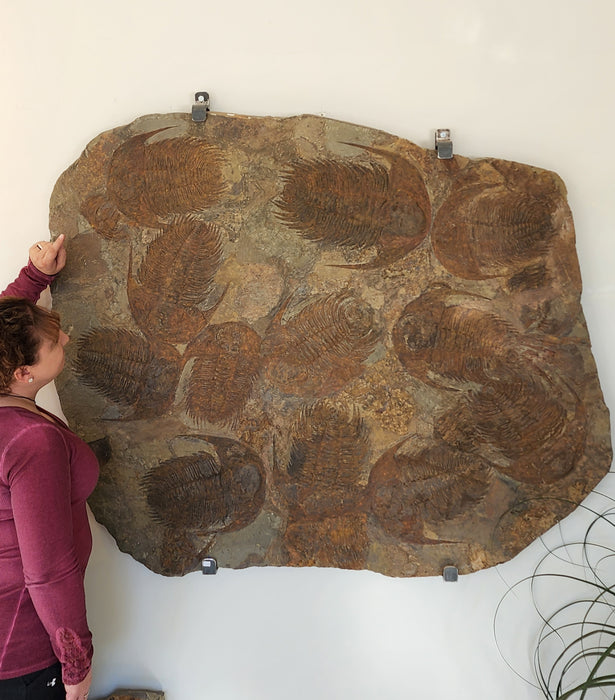 Large Mortality Plate of Acadoparadoxides briareus (Paradoxides) Trilobites | Morocco
Save

0

%
Save %
Original price
$22,000.00
-
Original price
$22,000.00
Large Mortality Plate of Acadoparadoxides briareus (Paradoxides) Trilobites | Sidi Abdallah ben el Hadj, Morocco
~510-501 million years, Middle Cambrian 
Trilobite Order Redlichiida, Family Paradoxididae
Trilobites size range approx. 9"- 16.75" front to back. This amazing piece has been restored as with many large plates of these trilobites but does not detract from the specimen.
Matrix size approx. 4' x 5'
*PLEASE CONTACT US FOR  A SPECIFIC SHIPPING RATE* Due to the size of this specimen, it will be shipped in an internationally compliant wooden crate. For easy wall hanging, a custom made metal hanging system is included as well.
You may also opt in for in-store pickup to cut your shipping costs all together and pick up your specimen in person. You can pick up from our store location in Kemmerer, Wyoming or we deliver to both the Denver Gem & Mineral show in the Fall and the Tucson Gem & Mineral show in the winter. For any questions, please don't hesitate to contact us directly.
An extinct genus of redlichiid trilobite, Acadoparadoxides belong to the family Paradoxididae. They were fast moving, adjunct epifaunal carnivores with well-developed vision and spines that lived during the Middle Cambrian. 
Trilobites are a group of extinct marine artiopodan arthropods that form the class Trilobita. Trilobites form one of the earliest-known groups of arthropods.
The trilobite body was segmented and divided into three regions from head to tail: the cephalon, or head region, separated from the thorax, which was followed in turn by the pygidium, or tail region. Trilobites, like other arthropods, had an external skeleton, called exoskeleton, composed of chitinous material.