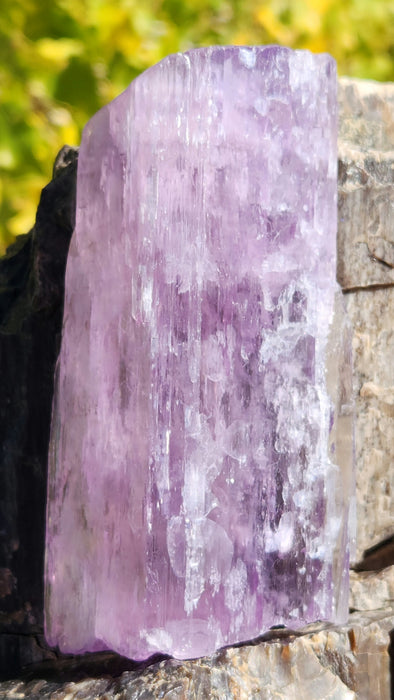 Natural Kunzite Crystal | Kunar Valley, Afghanistan
Save

0

%
Save %
Original price
$1,890.00
-
Original price
$1,890.00
This lovely specimen displays the pleochroism that the mineral is known for. It ranges from translucent to lilac under natural lighting. The colors intensify with base lighting, but it is not recommended to leave like this for long periods of time at the risk of fading the colors.
Specimen approx. dimensions: 4.25" x 2.25" x 1.25"
Kunzite is the best-known variety of spodumene, a lithium aluminum silicate mineral. It's named after mineralogist George Frederick Kunz, who was the first to identify it as a unique variety of spodumene in 1902. Kunzite gets its pinkish or lilac color from trace amounts of manganese.
Kunzite is pleochroic, meaning it shows two or three colors depending on the viewing angle. Kunzite's pleochroism is so strong that you can see it in the rough crystals and faceted gemstones. Kunzite also displays phosphorescence, the glow of a gemstone in a dark space after being exposed to sunlight or UV light.
*PROLONGED EXPOSURE TO SUNLIGHT OR BRIGHT LIGHTS WILL FADE THE COLOR