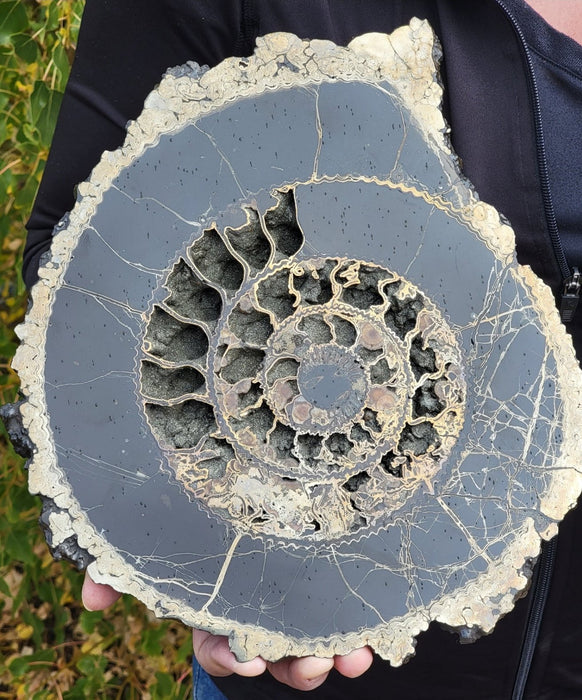 Pyritized Ammonite Half | Russia
Save

0

%
Save %
Original price
$1,950.00
-
Original price
$1,950.00
Species : Spitonicerus versicolor
Age: Middle Jurassic (174.1 - 163.5 Million Years Ago) 
Location: 

Dubki

 C

lay

 Q

uarry, Volga River Basin,

Saratov Region, Russia 
Specimen Size: approximately 11"×13"
Ammonite fossil specimen with pyrite as its replacement mineral. 
Ammonites are cut in half to expose their internal chambers, phragmocone, encrusted with pyrite crystals. 

Near

 

Saratov

 

beautiful

 

pyritized

 

ammonites

 are 

found

 

in

 the 

Dubki

 

clay

 

quarry

. 

These are found in

 

the

 

so-called

 

Lamberti

 

zone

 

and come

 from the upper

 

Callovian

, part of the 

Middle Jurassic

 

period

.
Originating from within the bactritoid nautiloids, the ammonoid cephalopods first appeared in the Devonian (circa 409 million years ago) and became virtually extinct at the close of the Cretaceous (66 Mya) along with the dinosaurs. The classification of ammonoids is based in part on the ornamentation and structure of the septa comprising their shells' gas chambers.
Because ammonites and their close relatives are extinct, little is known about their way of life. Their soft body parts are very rarely preserved in any detail. Nonetheless, much has been worked out by examining ammonoid shells and by using models of these shells in water tanks.

Many ammonoids probably lived in the open water of ancient seas, rather than at the sea bottom, because their fossils are often found in rocks laid down under conditions where no bottom-dwelling life is found. Many of them (such as Oxynoticeras) are thought to have been good swimmers, with flattened, discus-shaped, streamlined shells, although some ammonoids were less effective swimmers and were likely to have been slow-swimming bottom-dwellers. Synchrotron analysis of an aptychophoran ammonite revealed remains of isopod and mollusc larvae in its buccal cavity, indicating at least this kind of ammonite fed on plankton. They may have avoided predation by squirting ink, much like modern cephalopods; ink is occasionally preserved in fossil specimens.

The soft body of the creature occupied the largest segments of the shell at the end of the coil. The smaller earlier segments were walled off and the animal could maintain its buoyancy by filling them with gas. Thus, the smaller sections of the coil would have floated above the larger sections.

Many ammonite shells have been found with round holes once interpreted as a result of limpets attaching themselves to the shells. However, the triangular formation of the holes, their size and shape, and their presence on both sides of the shells, corresponding to the upper and lower jaws, is more likely evidence of the bite of a medium-sized mosasaur preying upon ammonites.

Some ammonites appear to have lived in cold seeps and even reproduced there.