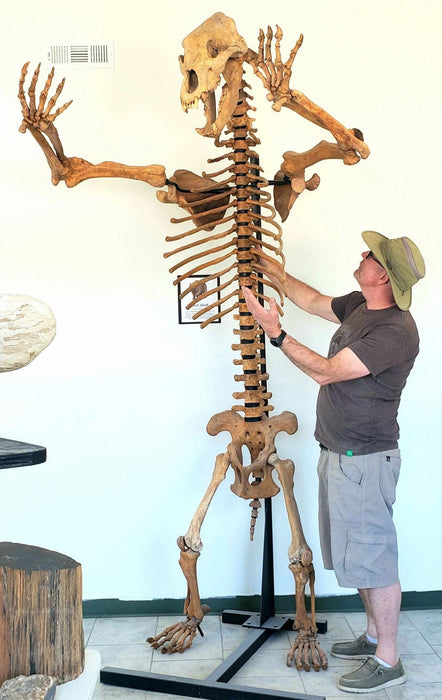 Siberian Cave Bear
Sold out
Original price
$0.00
-
Original price
$0.00
The cave bear (Ursus spelaeus) was a species of bear that lived in Europe and Asia during the Pleistocene and became extinct about 24,000 years ago during the Last Glacial Maximum.
 Cave bear approximately 9ft 
Temporal range: Middle to Late Pleistocene, 0.25–0.027 Ma 
Both the word "cave" and the scientific name spelaeus are used because fossils of this species were mostly found in caves. This reflects the views of experts that cave bears may have spent more time in caves than the brown bear, which uses caves only for hibernation.
Cave bear skeletons were first described in 1774 by Johann Friederich Esper in his book Newly Discovered Zoolites of Unknown Four Footed Animals. While scientists at the time considered that the skeletons could belong to apes, canids, felids, or even dragons or unicorns, Esper postulated that they actually belonged to polar bears. Twenty years later, Johann Christian Rosenmüller, an anatomist at the Leipzig University, gave the species its binomial name. The bones were so numerous that most researchers had little regard for them. During World War I, with the scarcity of phosphate dung, earth from the caves where cave bear bones occurred were used as a source of phosphates. When the "dragon caves" in Austria's Styria region were exploited for this purpose, only the skulls and leg bones were kept.