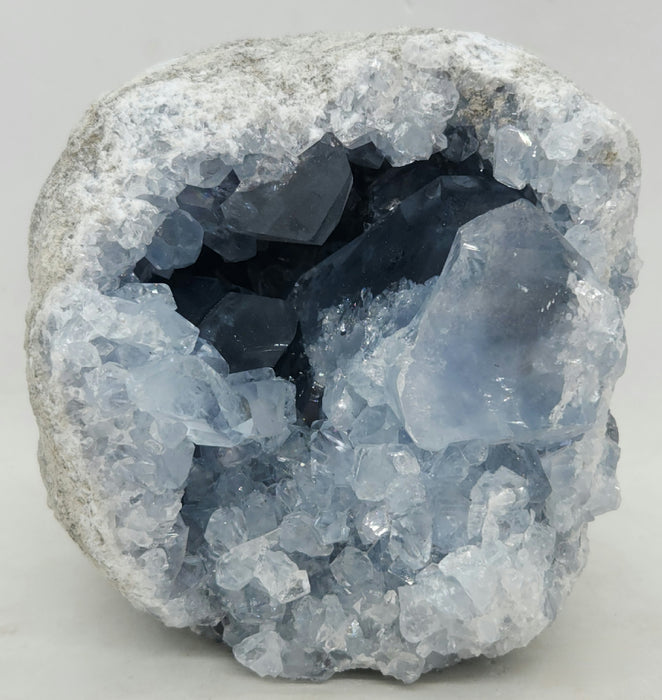 Blue Celestite Geode | Madagascar
Save

0

%
Save %
Original price
$104.00
-
Original price
$104.00
Celestite geode
Specimen measures approx: 3.5" x 3.5" x 2.75"

Celestine or celestite is a mineral consisting of strontium sulfate. The mineral is named for its occasional delicate blue color. Celestine and the carbonate mineral strontianite are the principal sources of the element strontium, commonly used in fireworks and in various metal alloys. 
The light blue color of this mineral will give any space a calming, soft, balanced feel. Celestite was named for its pale sky-blue color (from the Latin term caelestis eaning "heaven." This refers to the sky-blue, "celestial" color often seen in this mineral) by Abraham Werner in 1798. The Sakoany deposit was first discovered by a cattle herder who found some crystals that had weathered out close to the shore of the bay. In 1967, villagers started mining the deposit and continued into the 1970s.Dec 2, 2014
Please note that Celestite is very fragile, should be handled carefully and not kept with harder stones such as Quartz or Tourmaline. Do not keep these clusters in direct sunlight, as their color will fade.