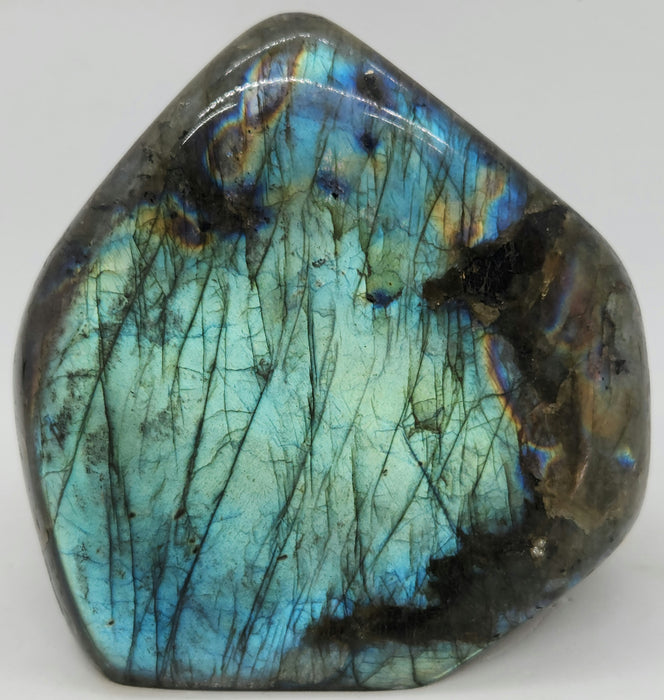 Labradorite Free Form | Madagascar
Save

0

%
Save %
Original price
$72.00
-
Original price
$72.00
Polished Labradorite approx. dimensions: 3.75" x 3.75" x 2.5"
Labradorite is a feldspar mineral first identified in Labrador, Canada which can display an iridescent effect. 
Labradorite crystal gets its name from the town of Labrador, Canada, where the stone was discovered. It only takes one look at Labradorite's flashy iridescence to understand where the many native legends about this stone come from. According to native Canadian tribal lore, Labradorite is said to contain the Northern Lights, known as the Aurora Borealis. In the myth, it is believed that the lights were "set free" by one of their ancestors who broke through the rocks with his spear. The lights that remained were set into stone, and thus Labradorite was born. 
Labradorite is a popular decorative stone because of its labradorescence, which creates a dazzling optical phenomenon of a blue green to deep blue sheen that shimmers in the light. Other varieties, including rare specimens, offer a stunning rainbow of green, violet, or orange shimmer often referred to as spectralite. Thanks to the parallel formation of mineral inter-growths within its structure, these lights bounce back-and-forth, which creates its distinctive shimmery, ethereal effect. Not only is this visual appearance quite attractive, but it also perfectly represents the energy of the Labradorite crystal healing properties. By guiding you toward the light and out of the darkness, Labradorite opens your eyes to the magic and possibilities that surround you.